Coffee or tea, movies or series, and what is something Max cannot live without for the rest of his life?
Hello! My name is Max Bastiaens. After completing my master's thesis at VB Advisory, I gladly joined them as a full-time quantitative consultant.
"What is your background?"
First, I started with studying Healthcare Technology. After 1.5 years, I came to the conclusion that I wanted to study something more mathematics related. That is the reason why I switched to the bachelor Mathematical Engineering. After obtaining my Cum Laude propaedeutic certificate, I wanted to go even deeper into the material of mathematics. Consequently, I started studying Econometrics and Operations Research at Tilburg University. After obtaining my bachelor's degree, I moved to Amsterdam to pursue a master's degree in Actuarial Science and Mathematical Finance.
"What do you do in your time off?"
I like to spend time with my friends and family by having drinks and dinner together. Especially during the summer when we can sit outside and enjoy the warm weather. I also like to listen to music and attend music events. Finally, I enjoy playing sports such as working out at the gym, playing padel or practicing Brazilian Jiu Jitsu.
"Could you say something about your path towards joining VB Advisory?"
I first got in touch with VB Advisory a few years ago when one of our current colleagues joined the company. Back then, I was already interested in the company because I knew I wanted to work in quantitative finance. Jumping to the present, another colleague reached out to me on LinkedIn, inviting me for a visit. I came by the office to have an informal chat that eventually led to a thesis internship opportunity. After obtaining my master's degree, they offered me a full-time job.

"What kind of projects have you done at VB Advisory?"
As I have recently joined VB as a consultant, I have just started my first project. Currently, I am working on a pricing tool for a large Dutch bank that provides financing to its commercial clients. The bank uses a complex model that calculates various factors, including the minimum interest rate the client must pay to ensure a positive return for the bank. It is an interesting project from which I am gaining valuable insights.
"Why did you choose VB Advisory?"
First of all, VB Advisory is specialized in quantitative finance, which aligns perfectly with the master's degree I have obtained. Secondly, VB works on a project basis in which you learn a lot on different topics and in different working environments. Also, you get in contact with multiple companies. Lastly, the team is young and open which makes you feel comfortable from the start.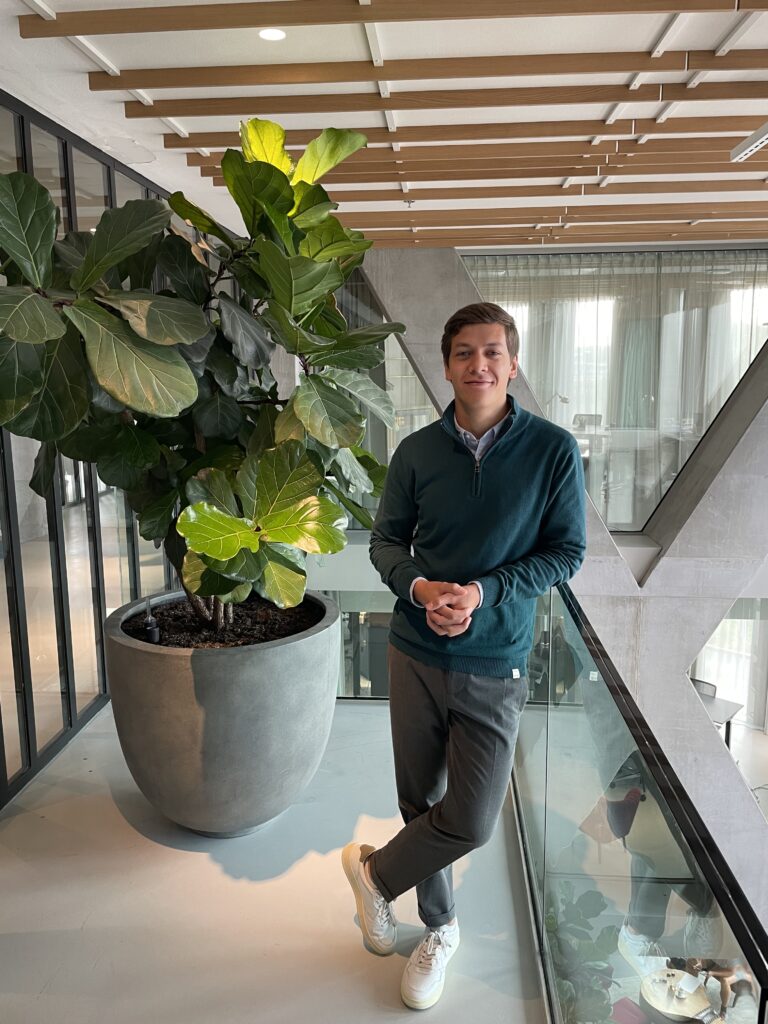 "What sets VB Advisory apart?"
The atmosphere among colleagues is welcoming. Because everyone is relatively young, it is easy to build connections with one another, which makes going to work enjoyable. Also, everyone is willing to help you out, as they have been in the same position before.
"What's your ideal Sunday?"
Start the day by sleeping in, then go outside to enjoy the warm weather (if possible) and finish the day with an episode of a good series.
Dilemmas with Max…
"Coffee or tea?"
I prefer both. I like to switch between them in the morning and afternoon, but after that, I stick to tea.
"Movies or series?"
A tough decision, but I would lean towards series. Here you can get to know the characters better and become more engaged in the storyline.
"Active holiday or beach holiday?"
Active holiday. I love exploring multiple cities and countries on a road trip, but I also enjoy thoroughly exploring a single city. I just enjoy vacations!
"Morning person or night owl?"
It depends on the day of the week. On weekdays, I am a morning person, but on weekends, I become a night owl.
"Not a day without?"
Music! I enjoy listening to many different music styles.